Biography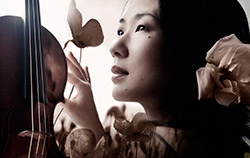 Hailed by Opus Magazine as "a stunning musician", violinist LIVIA SOHN performs widely on the international stage as concerto soloist, recitalist, and festival guest artist in Europe, North America, South America, and Asia. The Strad Magazine says "Livia Sohn possesses a remarkably lithe and transparent tone of exceptional purity. [Her] virtually blemishless accounts are nothing short of remarkable. Even when under the most fearsome technical pressure at high velocity, every note rings true with pinpoint accuracy."
This past season saw Livia performing as soloist with orchestras in repertoire ranging from Mozart to Korngold to Pärt, in cities as wide-spread as El Paso, TX, to Berlin, Germany.
Livia has been a guest soloist in North America with the symphony orchestras of Pittsburgh, Cincinnati, Seattle, Milwaukee, Edmonton, Rochester, Austin, Phoenix, San Antonio, Oregon, Dayton, Winston-Salem, Hartford, Cheyenne, Green Bay, Boca Raton, Louisville, I Musici de Montreal, Aspen Festival Orchestra, New York Chamber Symphony, Boston Pops, and Brooklyn Philharmonic, among others. She has performed with many eminent conductors, including Yehudi Menuhin, Jesus Lopez-Cobos, James DePreist, Gerard Schwarz, Myung-Whun Chung, William Eddins, Grant Llewellyn, Lukas Foss, Jane Glover, Junichi Hirokami, Murry Sidlin, and Jorge Mester.
Internationally, she has performed as soloist with the Budapest Philharmonic, Berlin Symphony, Cologne Philharmonic, Iceland Symphony Orchestra, Mexico City Philharmonic Orchestra, Hungarian Radio Philharmonic, Orchestra del Teatro Marrucino di Chieti in Italy, Auckland Philharmonia Orchestra, Czech National Symphony Orchestra, Limburgs Sinfonie Orkest in Holland, The City of London Sinfonia, Asia Philharmonic Orchestra, Korea's Seoul and Pusan Philharmonics, and the Wuhan Philharmonic in China. She performed a multi-city tour with South Africa's National Symphony and KwaZulu-Natal Philharmonic Orchestras and has performed solo recitals in Spain, Mexico, Cyprus, Israel, and Japan.
An avid chamber musician, Livia has been a guest artist at festivals such as the Kuhmo Chamber Music Festival in Finland, Cartagena International Music Festival in Colombia, Spoleto Festival USA, Aspen Music Festival, Caramoor International Music Festival, Edmonton Chamber Music Society, Newport Music Festival, Bay Chamber Concerts, Maverick Concerts, Brevard Festival, Chamber Music Society of Sonoma, Sewanee Summer Music Festival, Prince Albert Music Festival in Hawaii, Festival of the Sound and Pender Harbour Music Festival in Canada, and Festival de San Miguel de Allende in Mexico.
In recital, Livia has appeared at New York City's Mostly Mozart Festival, Chicago's Ravinia Festival, Washington D.C.'s National Gallery of Art, Stanford University's Lively Arts series, Isabella Stewart Gardner Museum and Jordan Hall in Boston, Dame Myra Hess series in Chicago, Gwinnett Performing Arts Center in Atlanta, Xavier University in Cincinnati, University of Connecticut, Peace Center for the Performing Arts in South Carolina, and the Broad Stage in Los Angeles.
Born from her love of chamber music, Livia is part of the piano trio Latitude 41, which was formed in 2009 with pianist Bernadene Blaha and cellist Luigi Piovano. Their debut CD of Schubert's monumental Trio in E flat major, and Schubert's "Notturno", was released in 2011 on the label Eloquentia to rave reviews. Among other places, they have performed in Vancouver, New York, Los Angeles, Boston, and San Francisco. Highlights from this season will see them perform in Port Townsend, Washington, and Rome, Italy. They will record another CD on the label Eloquentia of the piano trios by Camille Saint-Saëns.
In 1999, National Public Radio's "Performance Today" hosted Livia as an Artist-in-Residence for five days, during which she gave live interviews and performances of a different program each day. Other career highlights include performing at the inaugural concerts of Harris Hall at Aspen, and her performance with Lukas Foss and the Brooklyn Philharmonic Orchestra at the "11th Annual New Year's Eve Concert for Peace", held at New York City's Cathedral Church of St. John the Divine before an audience of 10,000.
In addition to the CDs she has recorded with Latitude 41, this year the Eloquentia label released a disc of Livia playing the concertos of Benjamin Britten and living composer Jonathan Berger. Gramaphone Magazine says of this recording, "Sohn's playing…is shot through with angst and urgency…", and The Strad Magazine says "Violinist Livia Sohn gives a committed account of the solo part, and she demonstrates an ease in getting through the notes, even where Britten sets his formidable double-stopping challenges." Livia can be heard on the Naxos label in the CDs "Opera Fantasies", which features opera arrangements for violin and piano (and includes three world premiere transcriptions), and "Miracles and Mud", featuring works by Jonathan Berger.  She can also be heard on iTunes performing the Dvorak and Khachaturian Concertos in a live recording with the Budapest Philharmonic Orchestra.
Livia gave her first public performance at age eight. In 1989, at the age of 13, she won First Prize in the Yehudi Menuhin International Violin Competition, where she was also awarded the Audience Prize. She attended the Juilliard Pre-College Division from the age of seven, at which time she began her studies with Dorothy DeLay and Hyo Kang. She continued under their tutelage at the Juilliard School, where she also studied chamber music with the legendary Felix Galamir. Livia plays on a J. B. Guadagnini violin crafted in 1770, and a Samuel Zygmuntowicz made in 2006. She has been on faculty at the Music Department of Stanford University since 2005.